VIN-Plate
The VIN-Plate carries information about the equipment of the Supra when it left the factory.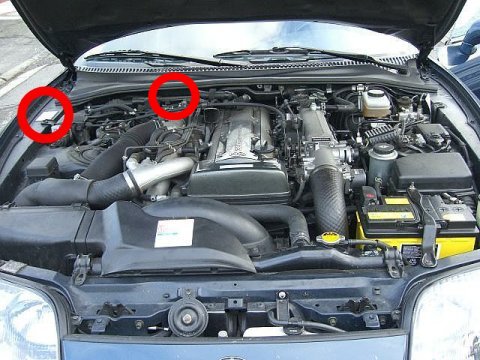 Picture above: Position of the VIN-Plate (left circle) and the VIN-Number engraved in the firewall (right circle)
US-Spec vehicles don't have a VIN-Plate. They have a VIN-Sticker located at 
the driver's door.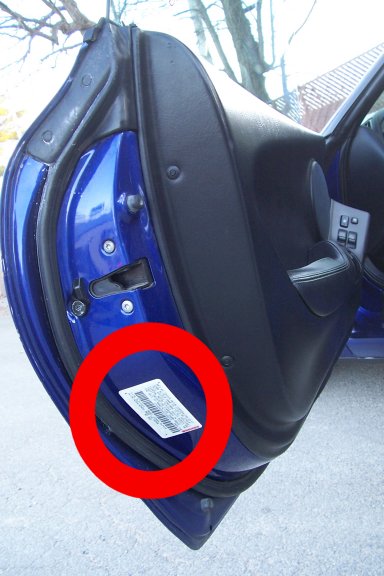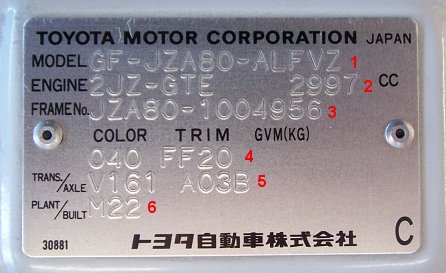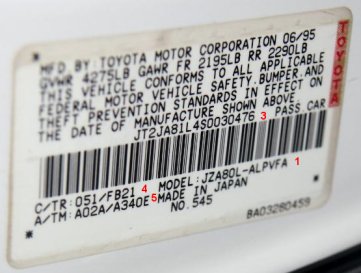 The left picture shows the VIN-Plate of a J-Spec vehicle (EU-Spec vehicles do have a slightly different plate). The right picture shows a US-Spec VIN-Sticker.
Explanations for the lines.
1. MODEL
Internal Equipment code. Detailed Article
2. ENGINE
Engine (2JZ-GE or 2JZ-GTE) and displacement (2997ccm)
3. FRAMENo.
The frame number (VIN). US- and EU-Spec vehicles do have a 17-digit VIN instead of a 12-digit VIN. Detailed Article
4. COLOR TRIM bzw. C/TR
Exterior colour and interior trim. There is no obvious system for the interior trim. The first letter gives you the seat-material (F = Cloth ; L = Leather), the third the interior colour (0 = tan ; 2 = black).Detailed Article on Exterior Colours
5. TRANS./AXLE bzw. A/TM
The transmission and differential. Detailed Article about transmissions. Detailed Article about Differential-Codes
6. PLANT BUILT
The plant the car has been manufactured at. Vehicles built between 1993 and April 1997 were manufactured in plants A21-A26 (Serial Number starting with "0"). Vehicles built after April 1997 were manufactured in plants M21-M22 (serial number starting with "1").