BADGE/ LETTER ALIGNMENT

Front Bumper:
Holes align badge into place.

Rear Hatch:
Toyota Lettering -

Toyota Emblem - Holes align into place
Supra Turbo -

Ash Tray: (click image)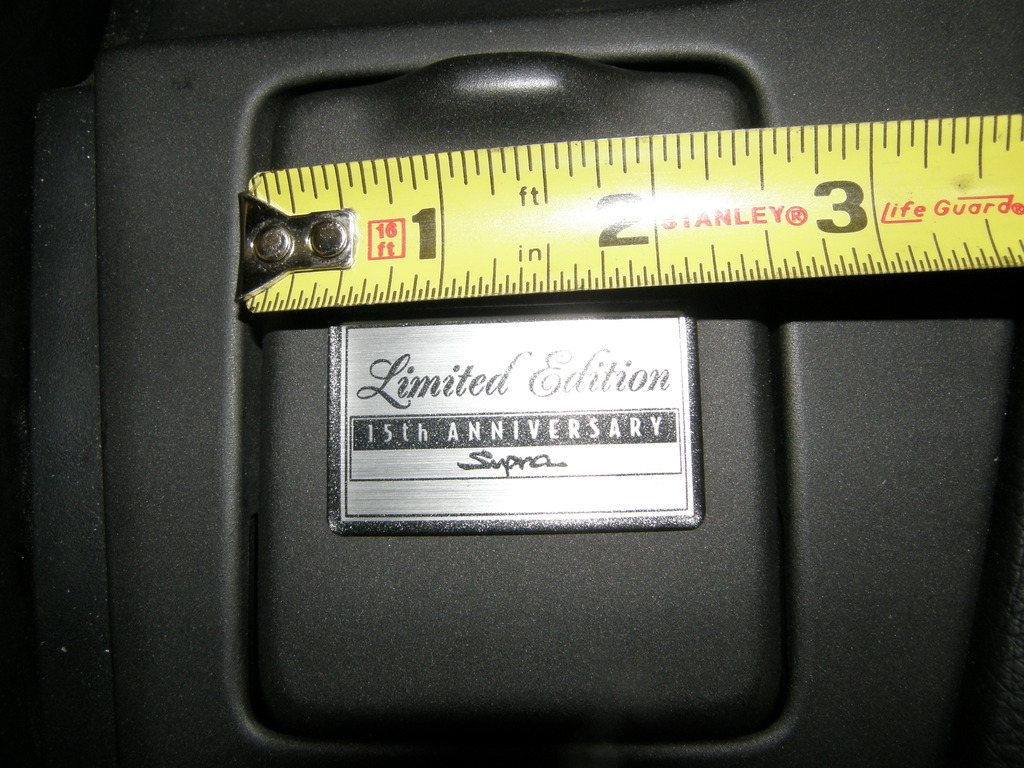 FRONT FENDERS:

For the 15th Anniversary badge:
- 210 mm(8.26772 inches) from the Fender Top Edge (Fender/Hood gap) to the top right edge/corner of the badge.
- 137 mm(5.39370 inches) from the Fender/Door Gap to the right edge of the badge

For the Limited Edition badge:
- Align bottom of the Limited Edition logo to the top edge of 15th Anniversary badge

Use a flexible tape measure to get accurate and proper distances and you're good to go
Throttle Body:
Center it on the flat area that bolts to the intake manifold. SPECIAL ORDER.

BADGE PART NUMBERS
CHROME
Front Bumper:
75314-17010 - Toyota Emblem
Rear Hatch:
75447-AA020 - TOYOTA Lettering
75471-13041 - Toyota Emblem
Supra Lettering - never made in chrome
Supra Turbo Lettering - never made in chrome

Ash Tray:

Discontinued from Toyota
FRONT FENDERS:
Discontinued from Toyota
Throttle Body:
Special Order

11277-46080 - Plate

** GOLD EMBLEMS ARE DISCONTINUED **

CHARCOAL
Front Bumper:
75314-14010 - Front Toyota Emblem
Rear Hatch:

75441-14190 - TOYOTA Lettering

75442-14280 - Supra Lettering
75443-14180 - Supra Turbo Lettering

75471-14010 - Rear Toyota Emblem
Ash Tray:

Discontinued from Toyota
FRONT FENDERS:
Discontinued from Toyota